Teeth Whitening
Teeth whitening is a cosmetic procedure used to brighten teeth; the darkening of teeth over time is very common and is increased by several factors. Bend teeth whitening systems are available in several methods to cater to the preferences of patients.
Over time tooth enamel becomes stained, discolored, and worn down to reveal the darker layer of dentin that resides beneath the enamel; the result is a dull smile that lacks in brightness. Bend teeth whitening procedures brighten discoloration by removing stains from tiny cracks in the enamel of teeth that occur over time. Individual whitening results will vary depending on the natural color of teeth; grey toned teeth generally do not whiten to the extent that yellow toned teeth do. However, all individuals will benefit in some manner from tooth whitening.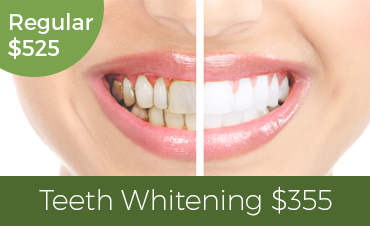 Teeth Whitening – Elgin, IL
One of the methods available for a Bend teeth whitening treatment is the in-office procedure; a benefit of this method is that results are seen much sooner than with the take home system. Before beginning, the dentist will take an initial tooth shade, this allows the patient to monitor progress and set goals for the desired color.
When the procedure begins a protective barrier is placed around the gums and a high-concentration peroxide gel is applied to the teeth in several intervals lasting 10-20 minutes each. After each interval, the existing gel is removed from the teeth and replaced with a new application. The in-office procedure may use an ultraviolet light source to enhance the effects of the whitening gel.