Isaac Qureshi, DDS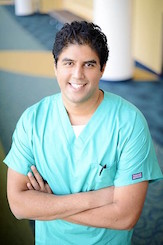 Trusted Elgin dentist, Dr. Qureshi was born in Melrose Park IL and has lived his entire life in Chicago. He is the older of two brothers and grew up in the southwest suburbs. Dr. Qureshi attended the University of Illinois in Urbana Champaign and received a degree in Psychology with a minor in Chemistry.
Your trusted Elgin dentist worked for a couple years in the real estate market, then went on to get his Masters in Public Health from Benedictine University in Lisle IL to the University of Illinois in Chicago for his Doctorate in Dental Surgery.
Dr. Qureshi takes many continuing education courses to expand his skills and knowledge to provide the most up to date dental care to all of his patients. He utilizes his Public Health background to help stress prevention of oral diseases and optimal patient overall health and well-being.
Dr. Qureshi has volunteered at free dental clinics for underserved populations and offered free dental service at other various charitable dental gatherings.
Jianjun Hao, DDS, MS & PhD
Trusted Elgin dentist, Jianjun Hao is a diplomat of American Board of Orthodontics. He was trained in the College of Dentistry at the University of Illinois at Chicago. He was a clinical assistant professor at University of Connecticut Health Center before joining our practice.
Your trusted Elgin dentist taught orthodontic residents and practiced in faculty clinic in the division of orthodontics at the university. He is proud of being a board certified orthodontist when only 25% of practicing orthodontists have even achieved this certification.
"Hollywood broad smile is my treatment goal, I am confident to accomplish this mission effectively and efficiently." he believes.
Dr. Hao's wife is an orthodontist too and practices in Chicago and Wilmette. Their son is a junior high student in Lane Tech High School. Dr. Hao is a Boston marathon runner.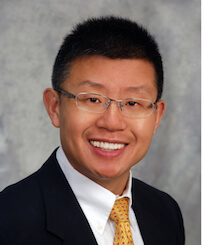 Dr. Amuyan
Originally from California, Dr. Amayun attended college with double majors (B.S. Biology and B.S. Business Administration: Finance, Real Estate, and Law). He was certified as an Emergency Medical Technician and worked as a teacher for various grade levels prior to entering dental school. He then obtained his doctorate degree (DMD) from Harvard School of Dental Medicine (Longwood Medical Area, Boston), which is closely affiliated with Harvard Medical School where dental students spend considerable time in their education. He pursued further residency training in Advanced Education in General Dentistry at The University of Texas in Houston and have been in private practice in the Chicagoland area since 2004. Throughout dental school and residency, his research areas included productivity measures of non-profit entity, Gastroesophageal Reflux Disease (GERD), and women's health during pregnancy. He has worked in dental offices of all types and has incorporated into his treatment philosophy many of the good aspects of those practices in order to improve patient care.
He enjoys travel, history, social and cultural events, biking, networking, and general discussion of various topics and ideas. The rest of his time outside of work is mostly spent with his family. His family is involved in various philanthropic and charitable efforts, both in local communities and overseas. He looks forward to meeting you as you visit us for your dental needs. If there is anything he can do to make your visit a pleasant experience, please do not hesitate to ask him. He is here to serve you!