With dental x-rays, your Elgin dentist will have an insight of the state of your soft tissues, bone, position of the teeth, pulp chamber, abnormalities and other information which cannot be seen during the regular clinical examination. It is an essential part in every dental exam and it gives your dentist more information on the state of your oral health. They will help your dentist set the diagnosis and start the necessary treatment.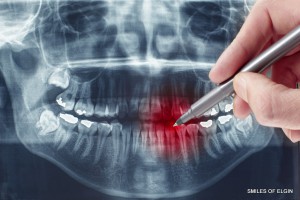 Dental x-rays give information on:
Bone loss
Cavities
Periodontal disease
Presence of cysts, tumors, periapical lesions
Orthodontic abnormalities
Impacted teeth
Insight of the pulp chamber (endodontic treatments, inflamations etc)
Different Types of Dental X-rays
There are intraoral and extraoral dental x-rays.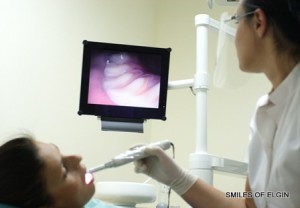 Intraoral X-rays include:
Periapical view– the tip of the tooth or periapex can be seen clearly in this type of X-ray. It is very important especially in the endodontic treatment. The dentist can see clearly the whole root and its canal along with the surrounding bone and soft tissues of this tooth.
Bite wing – it is used very often when visualization of the crowns is needed. In this X-ray view the bone level can be evaluated. This way cavities between the teeth can be visualized as well as the periodontal pockets and bone loss.
Occlusal view – required when it is essential to see the state of the palate and the floor of the mouth. It is not in a standard dental practice and is used only in suspicion of neoplastic growth and when anatomical structures need to be shown.
Extraoral X-rays 
include:
Orthopantomogram (OPG) – Film is exposed outside of the patient's mouth. It gives 2D view from ear to ear. Upper and lower jaw are captured and it showes anatomical features: bone,all the present teeth, part of the nasal cavity, the joint.
Panoramix – similar to the OPG, witht he difference that only the upper or lower jaw is captured.
These are the most commonly used dental x-rays in dental offices. X-rays are safe and the dosage of X-ray radiation in dentistry is very small. Precaution needs to be taken with small children and pregnant women especially in the first trimester of the pregnancy. In case of any serious medical illness, the approval of your doctor is needed in case of any dental treatment.
If you need dental x-rays, just call our friendly staff in Elgin to make an appointment.