Even though orthodontic treatment was considered to be for children and the teenagers in the past, nowadays with the advancements in orthodontic therapy, an increasing number of adults choose to wear braces and undergo the orthodontic treatment. In fact, it is now estimated that almost one third of all current orthodontic patients are in fact adults.
Orthodontic braces are very successful at realigning the teeth.  Braces work in the same way regardless of the age of the patient, but the treatment time is reduced in patients who are still experiencing jaw growth.  In short, an adult can experience the same beautiful end results as a teenager, but treatment often takes longer somewhat longer to complete.
Can adults benefit from orthodontic braces?
Adults can absolutely benefit from orthodontic braces. Aside from poor aesthetics issue, improperly aligned teeth can also cause difficulties biting, chewing and articulating clearly.  In general, orthodontists will agree that straight teeth tend to be healthier teeth.
Straight teeth offer multiple health and dental benefits including:
Reduction in general tooth decay
Decreased likelihood of developing periodontal disease
Decreased likelihood of tooth injury
Reduction in digestive disorders
Orthodontic braces have been adapted and modified to make them more convenient for adults.  There are now a wide range of fixed and removable orthodontic devices available on the market. The most common types of malocclusion are underbite, overbite, crossbite and overcrowding.
Before  recommending specific orthodontic treatment, the orthodontist will recommend treatment of any pre-existing dental conditions such as gum disease, excess plaque and tooth decay.  Orthodontic braces can greatly exacerbate any or all of these conditions which is why it is so important to start the orthodontic treatment in clean and healthy mouth. Have in mind that oral hygiene during the orthodontic treatment has to be at its greatest level.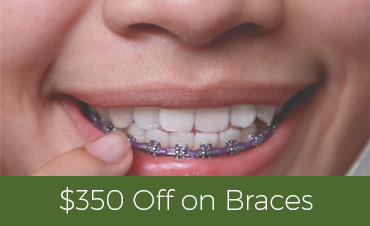 The Main Types of Orthodontic Braces
These are some of the most popular orthodontic braces:
Traditional braces – These braces are quite strong and tend not to stain the teeth.  They are comprised of individual brackets which are bonded to each tooth and accompanied by an archwire which constantly asserts gentle pressure on the teeth.  Traditional braces are generally metal but are also available in a clear synthetic material and "tooth colored" ceramic.
Invisalign® – Invisalign aligners are favored by many adults because they are both removable and invisible.  Invisalign® aligners are clear trays, and should be worn for the recommended amount of time each day for the quickest results.  Not all patients are candidates for Invisalign®.
Lingual braces – These appliances are usually metal and fixed on the tongue side of the teeth, therefore not seen when a patient smiles.  Lingual braces tend to be moderately expensive and in some cases, can interfere with normal speech. This is why they are not used commonly.
If you have any questions about orthodontic therapy or if you want to discuss your treatment options, contact your trusted Elgin dentists today.
Office Hours
| | |
| --- | --- |
| Monday | 10.00 to 6.00 |
| Tuesday | 10.00 to 6.00 |
| Wednesday | 11.00 to 8.00 |
| Thursday | 10.00 to 6.00 |
| Friday | 10.00 to 6.00 |
| Saturday | 8.00 to 3.00 |
| Sunday | Appointment only |