Dental Radiographs (X-Rays)
Dental radiographs or X-rays are important diagnostic tools in general dentistry as well as in pediatric dentistry.  They allow the dentist to see and treat problems like childhood cavities, tooth decay, orthodontic misalignment, bone injuries, and bone diseases.
The American Academy of Pediatric Dentistry (AAPD) approves the use of dental radiographs for diagnostic purposes in children and teenagers.  Although radiographs only emit small amounts of radiation and are safe to use on an occasional basis, the AAPD guidelines aim to protect young people from unnecessary X-ray exposure.
What are dental X-rays used for?
Dental x- rays are very useful diagnostic tools.  Their main uses in pediatric dentistry include:
Assessing the amount of space available for incoming teeth.
Checking whether primary teeth are being shed in good time for adult teeth to emerge.
Evaluating the progression of bone disease.
Monitoring and diagnosing tooth decay.
Planning treatment
Planning orthodontic treatment
Revealing bone injuries, abscesses, and tumors.
Revealing impacted wisdom teeth.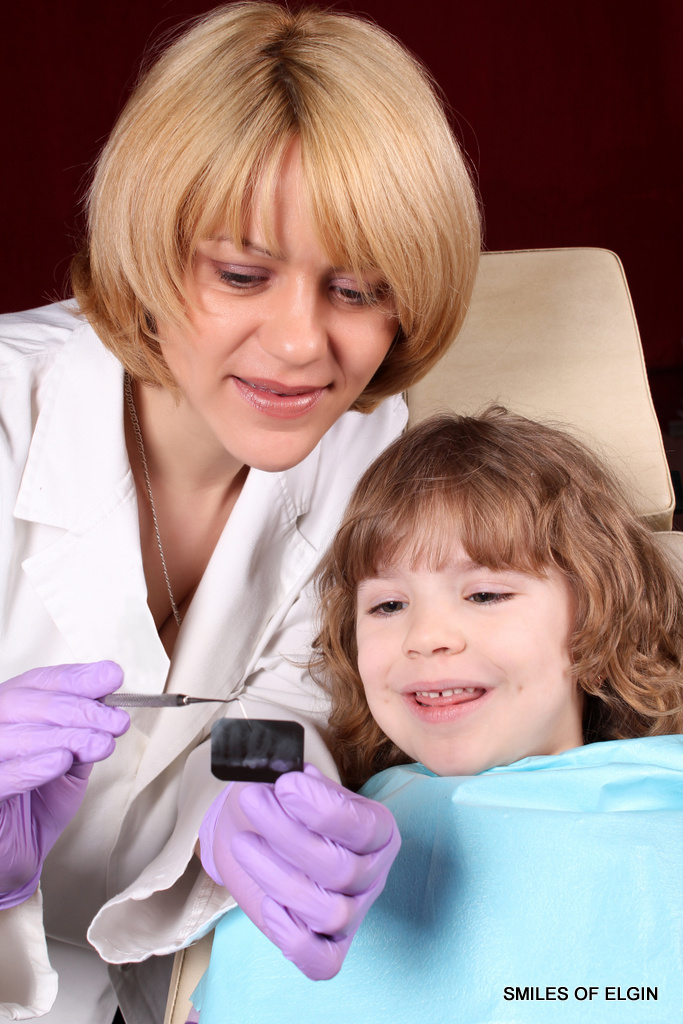 When will my child need dental X-rays?
Children who are at high risk of tooth decay or orthodontic problems need sets of radiographs taken more frequently for monitoring and treatment purposes. Children who have average or below average risk of dental problems need X-rays taken every one or two years.
If the oral region has been subject to trauma or injury, the pediatric dentist may want to X-ray the mouth immediately.
What precautions will be taken to ensure my child's safety?
Though dental radiographs are perfectly safe for use on children, the pediatric dentist will take several precautions to ensure the X-ray process does not unduly damage the child's cells and bodily tissues.
Your child will be covered in a lead apron to protect the body from unnecessary exposure. The dentist will use shields to protect the parts of the face that are not being X-rayed.  Finally, your Elgin dentist will use high-speed film to reduce radiation exposure as much as possible.
Office Hours
| | |
| --- | --- |
| Monday | 10.00 to 6.00 |
| Tuesday | 10.00 to 6.00 |
| Wednesday | 11.00 to 8.00 |
| Thursday | 10.00 to 6.00 |
| Friday | 10.00 to 6.00 |
| Saturday | 8.00 to 3.00 |
| Sunday | Appointment only |