Professional Dental Cleaning
Professional dental cleaning (also called dental prophylaxis) is performed by a registered and licensed dental hygienist. It is an important part of maintaining oral hygiene.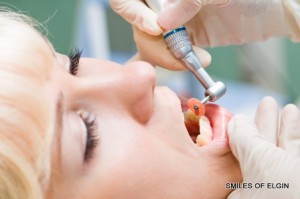 After the dental exam, your dental hygienist will do the following:
Removal of calculus (tartar) – this is actually calcified plaque. It can be above the gum line or under the gum line and it can only be removed by special dental instruments. Calculus above the gum line is visible, it can surround the tooth or it can be formed only on one side of the tooth. It is found mostly on the buccal surface of the upper molars and lingual surface of the lower incisives (near the ducts of the salivary glands). Calculus under the gum line is not visible and it is darker in color than the one above the gum line. Both types of calculus play important role in development of periodontal disease and it is responsible for destruction of the tissues.
Removal of plaque – plaque is a sticky mass of bacteria and its products, saliva and food debris on the surface of the teeth. Since the plaque is colonized by bacteria, their toxins will irritate the gums initially and later cause inflammation. If this is left untreated, it will lead first to gum disease and later to destruction of the deeper oral tissues and development of periodontal disease. This is why it is so important to remove plaque in its early stages of development in order to avoid periodontal disease and further complications.
Teeth polishing – this procedure is done after the removal of plaque and calculus. It is a finishing line in order to make all the tooth's surfaces smooth in order to prevent plaque accumulations for some time. It will also help remove the stains from the food and drinks and restore the teeth's natural color. During this procedure, rubber cup is used with the abrasive paste which will enhance the polishing effect and smooth the surface of the teeth. This part in professional dental cleaning procedure cannot be skipped and is essential just like plaque and calculus removal.
Elgin Professional Teeth Cleaning
Professional teeth cleaning is extremely important to be done at least one in every six months and it is the crucial part of the preventive care and regular dental exams.
Call your trusted Elgin dentist, Dr. Qurashi today at 847-695-3368 to make an appointment.