Cleanings and Preventive Care
A preventive program is a very important aspect of dentistry. At your Elgin dentist, preventive care covers all the procedures that are necessary for early detection of cavities and gum disease as well as any other oral pathologies.
Preventive care starts by controlling the plaque accumulations and keeping your teeth clean. Along with this, a balanced diet is an important part of maintaining good oral health. Plaque can be controlled at home by regular brushing (at least twice a day) and regular flossing (it would be good to floss at least once a day), also the use of mouthwash liquids adds to the prevention of plaque accumulations. Maintaining proper oral hygiene along with a balanced diet can keep your oral health on a very high level.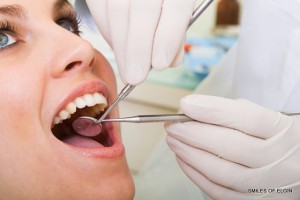 After the home preventive care comes the dental professional care. Here, the effort of your dentist and his staff come to play an important part in maintaining your oral health and early detection of cavities and gum disease. This is why regular dental exams are necessary. It is recommended to visit your dentist at least once every six months. Only by regular dental exams can oral pathologies be detected, controlled and treated in their early stages.
Elgin Dental Cleanings and Prevention Treatments: